V Stream – Video Streaming Application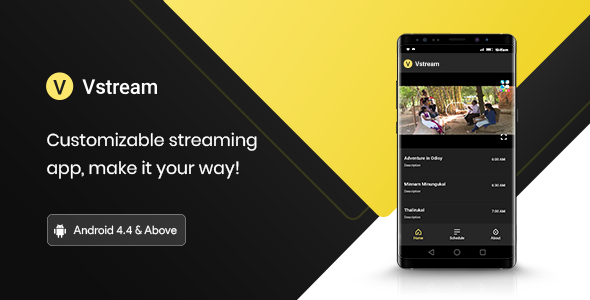 Vstream is a fully customizable video streaming application that allows you to stream video content on android mobile devices at anywhere and anytime! It helps you to create an android application for your own video streaming station and thus saves you a lot of time and money. This application was developed with Android Studio IDE and Android SDK tools in such a way as to allow you to fully customize it to your own taste / rebrand it for whatever purposes you'd like to use it for. It comes pre built with all basic mobile with custom video player volume control and accepts various streaming formats .
CURRENT FEATURES
Full Native Android Application
Supports Android 4.4 (API 19 ) & Up
Full Customization of App Name, Logo, Splash Screen Logo
Play/Stop Live Video Stream for Single Station
Supports interruptions
Supports Single Video Streaming Stations
Display Current Program, Next Program and Timings
Option To Show Weekly Schedule Of The Video Station From API
Option To Show Upcoming Programs Of The Day
Social Connection (Facebook, Youtube, Twitter,Instagram)
Website page with WebView
Easy volume control
Support: m3u8
High quality user interface
Check Network Availability.
Easy customization
Well Documentation
Wish To Customize
Customization Features
AdMob Feature
Supports Multiple Stations
Google Analytics
Favorite Mode.
for customization, please contact us at store@webandcrafts.com
Demo APK
You can download the demo app from the following link :
VStream.APK
Change Log


** Version 1.2
1. Source code migrated to AndroidX
2. Source code compatible with Android Studio 3.5
3. Application targets the latest SDK version 29 (Android 10)

** Version 1.0
1. Initial Build