Salon Beauty Service Appointment Booking Android Mobile Application with Web Admin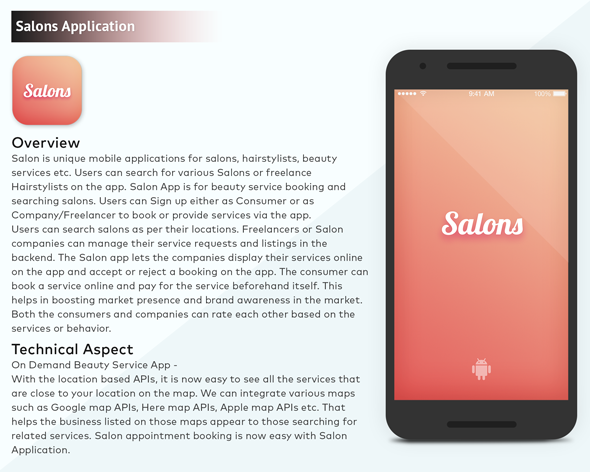 Complete Marketplace application :Service Booking app, Saloon Booking , Boutique Booking, Spa Booking , Freelancer Registration , Company Registration , Map feature, Company under staff registration , Fixed cost price , Hourly Price and many more features ,
Live app :
https://play.google.com/store/apps/details?id=com.salonsapptech
Android Native Salon Mobile Application with Admin is unique mobile applications for salons, hairstylists, beauty services etc. Users can search for various Salons or freelance Hairstylists on the app. Salon App is for beauty service booking and searching salons. Users can Sign up either as Consumer or as Company/Freelancer to book or provide services via the app. Users can search salons as per their locations. Freelancers or Salon companies can manage their service requests and listings in the backend. The Salon app lets the companies display their services online on the app and accept or reject a booking on the app. The consumer can book a service online and pay for the service beforehand itself. This helps in boosting market presence and brand awareness in the market. Both the consumers and companies can rate each other based on the services or behavior.
Features 1. Salon App Design – Now people can search for various beauty or salon services online where they can see various listings for different kind of services with the app. We develop apps like Syplo that help the hairstylists grow their presence in the market and build a consumer base. The app for hair salon appointments is a greater way for salons to manage their business and appointments. The salon app builders know everything about the needs and requirements of a hairstylist or a salon.
2. Booking Calendar – Manage the booking calendar and see upcoming appointments.
3. Interactive Design – We make app attractive and interactive so that users are impressed with the layout.
4. Payment Integration – We make payment integration of various methods like Cards, Net Banking, E-wallets etc.
5. Service Filters – Various set of options in the filter to choose.
6. Profile – Create a new profile as either consumer or company/freelancer. And users can switch any time.
7. Locations & Map Integration – Users can search for location wise results and can accept the location they choose.
Technical Aspect On Demand Beauty Service App – With the location based APIs, it is now easy to see all the services that are close to your location on the map. We can integrate various maps such as Google map APIs, Here map APIs, Apple map APIs etc. That helps the business listed on those maps appear to those searching for related services. Salon appointment booking is now easy with Salon Application.
Backend Admin Link http://hireoutsource.com/Salons/App/Admin Password – 12345
Id – apptech@gmail.com
For more detail and customization please contact us
Email id : ankitmobdev@gmail.com
Skype id : ankit.mobdev
We are using free 3rd party apis for any paid api or version client need to buy and integrate the apis themselves