Eatance Medicine delivery App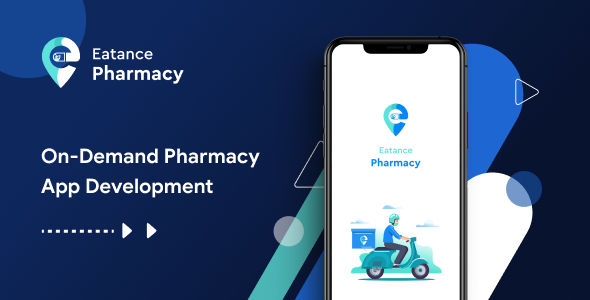 Eatance Medicine Delivery App offers a one-stop solution of online Pharmacy any time, anywhere. Run the pharmacy business from receiving orders on-line and deliver essential medications medication at the doorstep.
Customer App Features:
User Login/SignUp
Search Option
Product For You
Manage Profile
MultiPle Addresses
Smart Find
Order Overview
Order Tracking
Promo Code
View Product Details
Order History
Order Information
Review & Ratings
Social Share
MultiLanguage Support
Driver App Features:
Multiple Deliveries
Track Route
New Orders Notifications
Customer Details
Multi Language Support
Live Tracking
Driver Earnings
Admin Panel Features:
Manage Products
Order Status
Manage User
Manage Offers & Discounts
Categories and Brands
Custom Notifications
Manage Offers & Discounts
Create Multiple Users
Review & Ratings
Order Invoice
Reports
Multi-Language Support
Please find the demo details of our Eatance Medicine delivery App .

Eatance Medicine delivery User App:
https://play.google.com/store/apps/details?id=com.eatancepharma&hl=en
User Name:den@mailinator.com
Password: Test@123
Eatance Medicine delivery driver App:https://play.google.com/store/apps/details?id=com.eatancepharma.delivery&hl=en
Demo account:
Username:lara@mailinator.com
Password: Test@123
Admin Panel Demo:
https://demo.eatanceapp.com/pharmacyapp/backoffice/
User Name:support@eatanceapp.com
Password: Error@123
What You Get : With Your Purchase You Will Get
Eatance Driver APP Source Code
Eatance User APP Source Code

Note: After your purchase, please write an email for Admin panel source code with your transaction id.
You will get Mobile Source Code,DBfile, and Demo of Application in separate mail after your purchase.Our Technical team will send you an email with Mobile Source code file and complete Package after your purchase. To Request Source Code File , please contact info@eatanceapp.com.
Your Item purchase does not include: 1. Customization services 2. Installation
services We are not available on Saturday and Sunday so we will not be able
to answer your inquiry related to product and support. Note: Due to Covid-19
Situation, we do have very limited support. There may be delay in response or
answering your questions. The average response time will be 48 to 72 hours to
answer your questions.
Note: Before purchase please check documentation. Related to Document if you have any question
please contact on info@eatanceapp.com. Our support team will share the documentation
and please make sure if you are okay with documentation then you purchase the
product.
Note: All Images that use in products are for demonstration purposes only. However, the person purchasing the application need to replace the demo with their own images.All images are under copyright@eatanceapp.com..