Offers & Deals – Advanced Order System – Native Apps iOS & Android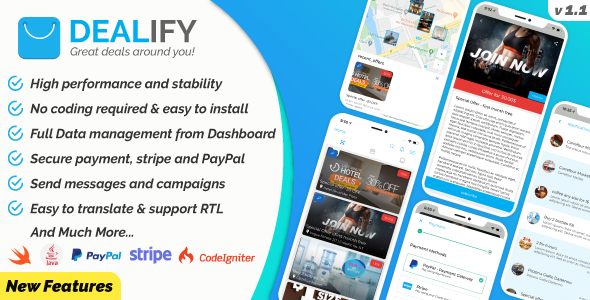 – Version: 1.1 – Youtube Channel – Support Ticket Plateform

– Last update: 23/06/2020
– Files Included: Full Android Source Code, Full IOS Source Code , Full PHP script for dashboard, Project Documentation ( installation & configuration guide )
– This is Exclusive Product Licence from Envato.
DEALS APP is an exceptional and powerful online platform, with a smart search-&-find function, that locates the perfect business (Restaurants, Hotels, Grocery stores, Supermarkets, Job recruitment firms/companies) and deals in a specific area.
Why Deals app ? It is smart, reliable and efficient.


Android and IOS Apps Features
Google Directions.
Chat Realtime & Unlimited
Paypal, credit cards integration.
Cash on delivery and payment on pickup methods
Integrate commission for each item
Checkout
Notifications
Top quality, clean code created by experienced senior Android developer
Google Maps for showing restaurants on the maps with direction to them
User Profile
User Orders
User Favorites Business
Push notification using FCM (Firebase Cloud Messaging)
Permanent data storage (chat messages, stores and event informations) on a MYSQL database
Login
Register
Forgot password
Home
Market Details
Maps Explorer
Easy to restyle and theming by on your branding sites.
Awesome animations are ready to use: Parallax Animations, Sliding & Swiping animations
Currency management
Custom offers
Support RTL languages (Arabic, Farisi…)
AdMob
Navigation drawer menu with categories
Cool Mobile UI Interaction
Material Design pattern
Pull Down Bouncy UI.
Share to Facebook
Share to Twitter
Call Integration
SMS Integration
Advance Search
About Us Panel Added
Image Pinch and Zoom
Well documented
Participate to the event
Upcoming events near you
Parallax scrolling effect
App Settings
App Languages
Help & Supports
Account Settings
Web Admin Features
Simple and Attractive Admin Panel.
Create and manage custom fields associated to the offers detail for better targeting
Display businesses ,deals , earning , orders and customers using the app
Manage customers and Role and permission
Manage Stores , Orders , Payout , categories , Offers and more
Secure all communications between the Web admin and android & iOS apps with an API key
Easily integrate new languages to your app
Manage all the content created by your customers, edit the number of stores , offers, compagin … created
by each one so quickly
Use your phone where you are to manage your application and stay tuned to all your customer's thanks to the
responsive dashboard
Stay tuned to your customers by answering their messages directly from dashboard
What you get
Full Applications Android + iOS Source Code
Full PHP source code for the backend
Project Documentation ( installation & configuration guide )
Demo APK:
Demo iOS using TestFlight:
Demo Admin :
Admin URL:
https://droidev-tech.com/dealify-v1-0/dahsboard

Username: admin
Password: 123456
Username: owner
Password: 123456
Note: This account gives you only limited access to see the dashboard with the features that have, you
will not be allowed to change any information through the demo version.
To get more accessibility please create a customer account to be able to create and edit the content in the
dashboard

Changelog


——————————— Change log & Upgrading ———————————————————

V1.1 – 21/06/2020

New Features :
- Integrate commission for offers .

Improvements:
- Migrate from fabric to Crashlytics
- Custom field cash support 
- Clear search filter on both stores and offers list
- Geo business map improvement , offers section
- Updating Firebase apis

Bugs fixed: 
- Fixing bugs related to taxes
- Fixing technical issues reported from Crashlytics

Changed files log included in the project.